Three Bean Salad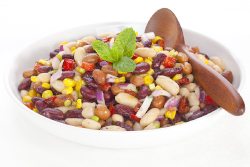 A colorful, healthy and nutritious side dish. Quick and simple to make, very good served with poultry and fish.
Ingredients:
2 cups cooked green beans cut into 1 1/2" length
1 1/4 cup cooked garbanzo beans (or 1 can low-sodium, canned beans, drained)
1 1/4 cup cooked kidney beans ( or 1 can low-sodium canned beans, drained)
1 small red onion
1
tablespoon
rice vinegar or apple cider vinegar
1 1/2 tablespoons lime juice
1/2 teaspoon garlic powder
1/2 teaspoon light salt
2
tablespoons fresh cilantro, chopped
1 tablespoon fresh parsley, chopped
Directions:
If using fresh green beans, wash and cut into 1 1/2" lengths, steam for 5 minutes, until barely tender.
Remove from steamer immediately. If using frozen green beans, microwave for about 5 minutes.,
Combine all the beans and onions and mix.
Prepare salad dressing by beating the vinegar, lime, juice, honey, garlic and salt together with a fork or wire whisk until well blended. Stir in cilantro and parsley.
Pour dressing over beans and mix well.
Cover and let marinate at room temperature for about 30 minutes. Stir again and chill for another 30 minutes. Toss again before serving. Garnish with fresh parsley or cilantro sprigs. Makes 8 servings.
Nutrition Information per serving:
Calories: 120

Total Fat: 2.4 gm

Saturated Fat: 0.3 gm

Cholesterol: 0 mg

Sodium: 320 mg

Fiber: 5.5 gm

Diabetic Exchanges: 1 starch, 1 vegetable, 1/2 fat